The importance of skincare
Nowadays, our skin must deal with many harmful agents from the environment such as sunlight (UV rays, ultraviolet rays), dirt, car smoke, bacteria hidden in the air,… This is the cause of many diseases on your skin.
According to many studies by experts, when stepping into the age of 20, our skin has begun to show signs of aging, the skin structure gradually weakens. From the age of 30 onwards, the skin will be increasingly changed. Therefore, experts and dermatologists recommend that skincare as soon as possible will keep skin healthy, and maintain high resistance to fight against harmful external factors. 20 years old is the "golden" stage to take care of and provide essential nutrients to boost the skin.
 To provide the necessary nutrition for the skin, we spend a little time every day taking care of our skin and doing a skincare routine. If we keep our skin clean, moist and healthy, there will be no skin issues or diseases related to skin. In addition, skincare also helps the circulation of blood vessels under the skin to run better. Besides, It supports stimulating the production of collagen and elastin so that the skin aging process will happen slowly.
Rose de Mai Skincare & Spa – a leader in the field of skincare & spa. They have a team of experienced doctors, technicians, modern facilities, fully equipped. All of their staff is trained with deep expertise and professional service style (online & offline consultation); especially, always putting customers first. Since its establishment, the owner of Rose de Mai has always put the enthusiasm as a guideline in the field of beauty, and pursuing aesthetic sophistication. Rose de Mai Skincare & Spa always selects luxury cosmetic products directly from European – American manufacturers.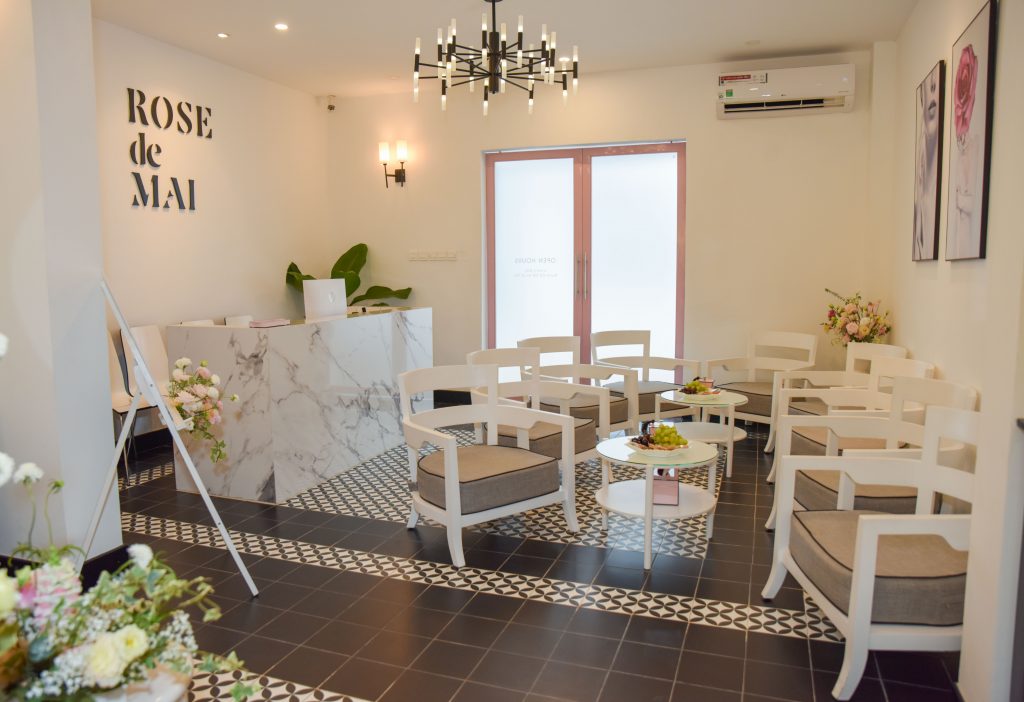 Rose de Mai will listen to each individual customer's skin to see the skin habits and changes. Then, based on each customer's skin types to create a skincare regimen and treatment. We do not apply a template, but focus on "personalizing" your needs, to accompany you throughout and suggest the most sustainable effective course. Based on the development of world-certified technology, combined with benign cosmetic products capable of intensive treatment. Using skincare service at the spa also helps you reduce stress and relax more after working days
With different costs, the staff will advise customers to easily choose the right service for each skin condition.
Contact us now for advice and to experience skin care spa services at Rose de Mai Skincare & Spa
Address: 24/4 Pham Ngoc Thach, Vo Thi Sau Ward, District 3, Ho Chi Minh City, Vietnam
Hotline for consultation: (+84) 96 1646244
Website: https://rosedemai.vn
Fanpage: https://www.facebook.com/rosedemaispa
You can booking, get in touch via Facebook Messenger

Reduce stress and fatigue
After hours of studying and working, we go to the spa to enjoy and take care of our skin, massage our body and listen to melodious music. It will help us feel comfortable and reduce stress immediately. In addition, Rose de Mai provides many other service packages such as saunas, full-body massage … to relax muscles and firm the body.
Promote the blood circulation process
Many studies have stated that massage therapy improves blood circulation. Massage service at Rose de Mai affects directly the vessel walls to help the lymphatic system stay healthy and circulate better. Consequently, it helps the body to quickly detox, providing nutrition to each cell.
HELPS REJUVENATE SKIN
Over the age of 25, our skin begins to age faster and the skin's ability to repair itself decreases. During this period, supplementing the necessary nutrients for the skin is extremely important. Rose de Mai conducts skincare regimens with modern technology. Therefore, the nutrients in the cosmetic products will be penetrated deeply and be more effective than self-care. Using skincare service at the spa regularly, our skin will be rejuvenated. 
SKIN ISSUES ARE IMPROVED
When you come to Rose de Mai, you will be examined and consulted carefully on skin types, skincare products and suitable procedures. Consequently, skin problems will be significantly improved. 
IMPROVE AND PREVENT SKIN AGING
As time has gone by, skin aging is related to many factors such as age, skincare, irregular lifestyle… Understanding your demands, Rose de Mai has been researching and selecting rich nutrition products and modern technology. Besides, our staff has been trained with the unique massage. Therefore, the nutrients penetrate deeply and maximize their effects, helping to effectively prevent skin aging. 
Skincare services at Rose de Mai Skincare & Spa
1. SPA SKIN CARE WITH BIOLOGIQUE RECHERCHE
THE BASICS: Basic facial care, choose products according to skin type

HYDRATING: The treatment provides moisture and water for dry, tight skin. In particular, restore weak skin due to lipid deficiency, regenerate and rebalance the skin barrier.
INTENSIVE CARE: An urgent, emergency recovery treatment for severely irritated, reddened skin. The treatment is suitable for extremely sensitive skin, skin in the transition period, affected by weather and environment.
BOOSTER VIP O2: Treatment uses foam solution and silicone spiked gloves to provide oxygen to increase skin's healthy glow, regenerate and lift muscles, improve dull, tired, stressed and normal skin frequently exposed to environmental pollution.
SKIN DETOX – MC 110: Treatment combines MC 110 lotion and muscle vibration technique to detox, deep clean the skin, support acne and lift, remove wrinkles for acne oil, pre-aging skin.
P50 PEEL: Natural bio-exfoliation treatment with Exfoliant P50 Visage mask, which helps to brighten, soften skin, treat acne, sebaceous fibers and keratosis skin.
RADIANCE: The treatment uses Lift CVS and muscle pinch techniques to address pigmentation problems, brighten and treat dark spots, and lift, plump, and rejuvenate the skin.

ANTI-AGING LISSANT: Treatment using Soin Lissant and muscle plucking techniques to help regenerate irritated, damaged skin and increase collagen and elastin production to tighten aging, sagging skin, and instantly lift muscles.
2. SPA SKIN CARE WITH VALMONT
RADIANCE RITUAL/ BRIGHTNESS OF ICE
An instant brightening, tone-up treatment, using the quintessential products from the Expert of Light line with an exclusive brightening complex of Zinc, Hexylresorcinol and Vitamin B3. In addition, adding a fresh collagen mask Regenerating Mask Treatment helps to tighten radiance, intensively nourishes, and maintains the effect for a long time.
ANTI-WRINKLE & FIRMNESS RITUAL/ SUMMIT OF THE CERVIN
Facial contouring, lifting and sculpting treatment with the exclusive AWF5 complex of the V-shape and V-line sets. In addition, adding a fresh collagen mask Regenerating Mask Treatment helps to increase elasticity, smooth wrinkles, stretch radiance, intensively nourish, and maintain the effect for a long time.
EYE RITUAL/ COLLAGEN LIFT
Intensive treatment to treat dark circles, puffiness, fine lines and wrinkles. Use a fresh collagen mask specifically for the eye area, combine with 2 different eye creams and many massage techniques to drain the lymphatic system, helping nutrients penetrate deeply and for higher efficiency.
3. CHEMICAL PEEL
PEEL LEVEL 1: Biological skin peel with Masque Exfoliant P50 Visage: gentle skin exfoliation, natural dead skin removal, suitable for slightly keratinized, dull, less acne-prone and sensitive skin.
PEEL LEVEL 2: Chemical peel, using 3 types of acid with high concentration: Salicylic Acid, Lactic Acid and Mandelic Acid for acne skin, oily skin, and rough skin; Helps soften the stratum corneum, regulate oil, neutralize acne-causing bacteria, support the treatment of acne and post-acne scars.

PEEL LEVEL 3: Under the direction of a doctor with skin that needs intense and intensive treatment. A medium chemical peel helps to solve many types of acne such as hidden acne, inflammatory acne, cystic acne. It also aids in the treatment of various skin conditions such as pigmentation and skin aging.
4. INTENSE PULSED LIGHT HAIR REMOVAL TECHNOLOGY
The technology uses light energy to act on the hair follicle, interrupting the growth process and gradually impairing the ability to re-form new hair.
5. BODY CARE TREATMENT
VALMONT REVITALIZING PROGRAM
A comprehensive body care treatment, from restoring roughness, smoothing the back/buttock area to protecting the skin from pollution and high temperatures, giving the skin a youthful, healthy glow. The process consists of 3 steps:
Purifying/Purifying: Exfoliate to brighten dull skin, remove roughness and roughness, fade stretch marks and cellulite with Valmont Cellular Refining Scrub
Balancing Regenerative/Massage: External massage therapy relieves stress on the body with Valmont Vitality Massage Oil.
Revitalizing / Revitalizing: Apply with Valmont Modelage Body Cream to help stimulate collagen and elastin production, strongly restore skin cells, prevent aging and protect skin for 24 hours.
The method of using high concentration acid (AHA – BHA) to act on the epidermis on the back, helps slough off old and damaged cells, in order to repair skin defects: gather inflammatory acne, push acne hide, reduce acne and brighten skin.
Method of using high concentration acid (AHA – BHA) to lighten the skin and treat dark spots
6. ADVANCED THERAPY SERVICES
Skin Scan with Skin Instant Lab

High-Tech Treatment

Get Acne

Reduce Inflammatory Acne With Healite Lamp

Reduce Inflammatory Acne Ipl Technology

Peeling Acne Treatment

Wrinkle Treatment & Eye Treatment with Rf . Technology

Burning Warts/Moles
7. MICRODERMABRASION/ ESSENCE TRANSPLANT
Essence Inoculation:
Acne Treatment

Treatment of Pimples, Large Pores

Comprehensive Skin Rejuvenation Stretching, Wrinkle Removal, Brightening Skin

Rejuvenate Sagging Skin

Acne And Dark Back Treatment

Treatment of Melasma, Resolve Hyperpigmentation
Micropoint Treatment Methods:
Injections For Treatment Of Skin Problems Around The Eyes

Acne Treatment Injections/Acne Scars

Spanish Glasskin Ball Stretcher

Glasskin Swiss Balls Injections

Total Rejuvenation Injections Remove Wrinkles And Brighten Skin
You can booking, get in touch via Facebook Messenger

Rose de Mai SKincare & Spa – Exclusive distributor of high-end cosmetic brands
Biologique Recherche is a cosmetic brand from France, trusted by girls in many countries around the world. Biologique Recherche brand specializes in the production of skincare, and therapeutic product lines, including diverse product lines such as creams, serums, lotions, masks with their own advantages and suitable for many different types of skin.
The Valmont brand has gathered all the best experts to create unique lines of products that quintessentially combine and deliver highly effective anti-aging…enhancing the inherent beauty for both women and men.
Zo Skin Health offers comprehensive solutions to regenerate and maintain healthy skin for anyone; regardless of age, ethnicity,or skin type. Zo Skin Health actively cares for the skin from correcting sun damage; improving skin pigmentation to prevent, protect from future damage. At the same time, Zo Skin Health with formulas to support skin hygiene; protect and restore the condition of damaged skin problems; skin discoloration, irritation and sensitization. Bringing the most useful knowledge to contribute to the beauty routine of consumers.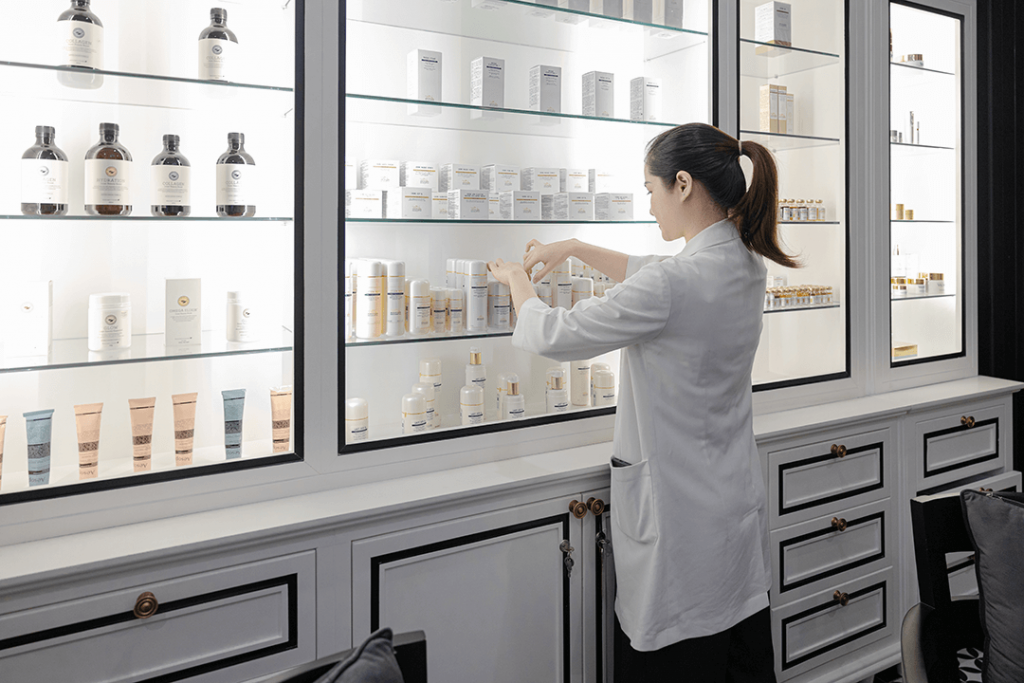 Skinceuticals is one of the famous and prestigious cosmetic companies. In terms of cosmetics, it can be understood that beauty products with bioactive ingredients that have been medically approved to prove their effectiveness in skin care, can roughly be understood as the interference between "medicine" and "beauty products".
. The Beauty Chef offers a complete range of bio-fermented and probiotic inner beauty powders and elixirs to promote gut health and glowing skin. Carla's philosophy–that beauty begins in the belly–reflects the power of the gut-skin connection and inspires her to create the most innovative and efficacious inner beauty products. Derived from nature and supported by science, The Beauty Chef's products work synergistically together as a complete inner beauty routine. This brand develops products that nourish the gut microbiome and promote radiant, glowing skin–beauty from the inside out.
Aesop was established in 1987. We are headquartered in Melbourne, and have offices and stores in many parts of the world. The objective of Aesop has always been to formulate skin, hair and body care products of the finest quality. Besides, they use all the materials from nature to build the beauty products so it is really safe for all types of skin; especially, sensitive skin.
Diptyque is a famous perfume brand from France. In the early days of its establishment, Diptyque was known for its scented candles with luxurious and impressive scents. Until now, when it comes to this brand, people often appreciate the scented candle products. The scent of Diptyque brand scented candles is a bit natural, with many emotions and inspirations of the 3 founders through their journeys. All ingredients inside the product are 100% natural, very safe for users.
At Rose de Mai Skincare & Spa , you will experience professional and effective skincare services. Also, they are an exclusive distributor of high-end cosmetic brands so it can be easier to find and buy the suitable beauty products here. Not only do we have a team of experienced doctors and technicians, the high-end products they use are granted to bring the most "optimal" effect to all customers. Contact us right here for an in-depth examination and consultation.
You can booking, get in touch via Facebook Messenger